Candles make us feel good and happy while we see them on our dining table. Most of decorative plans can be added by addition of some chic looking candle styles. Candles not only provide the appreciated light and brightness but also create a romantic environment in whole home ambiance. Here we are to give you idea to get some chic DIY duct tape metallic candle design using the sticky duct tape. We have chosen some different sizes of candles to be remodeled through duct tape.
To get the metallic nature we have used the metallic golden and silver shades of duct tape rolls which create subtle manifestations of candles. Each unique piece from these duct tape candles can be used as a great DIY duct tape centerpieces for table, shelf, and home deck garnishing and embellishment purposes. Ideas just lie in tons and possibilities of duct tape crafts have just no limit. Just pick the colors your want and raise your candles in perfect Eco-friendly and visually attractive hues. This DIY duct tape gift topper makeover has also a much of gift-worthy nature and can be used as perfect gifts for Memorial Days.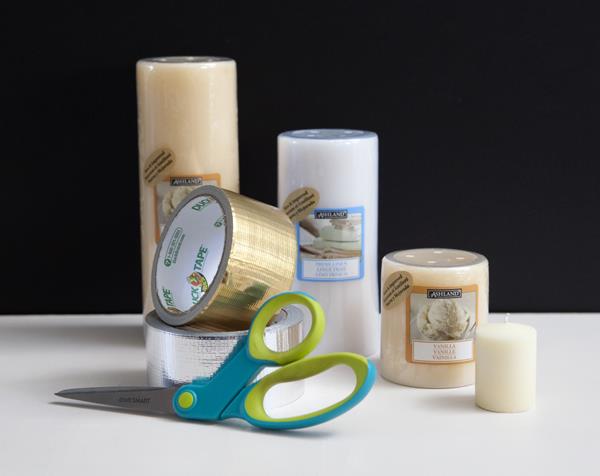 Supplies:
Different Sizes of Candles
Golden and Silver Duct Tape Rolls
Scissor or craft Knife
The candles, you will buy from the market come with some plastic covers wrapped all around the candle. If you want to give them the metallic textures like we are to do in this DIY tutorial, then just remove these plastic covers first.
For this purpose make a sharp cut to the cover at bottom or side and take the cover off with your fore tips of fingers. Make sure that you are not cutting or wasting the candle wax mass which is always much soft.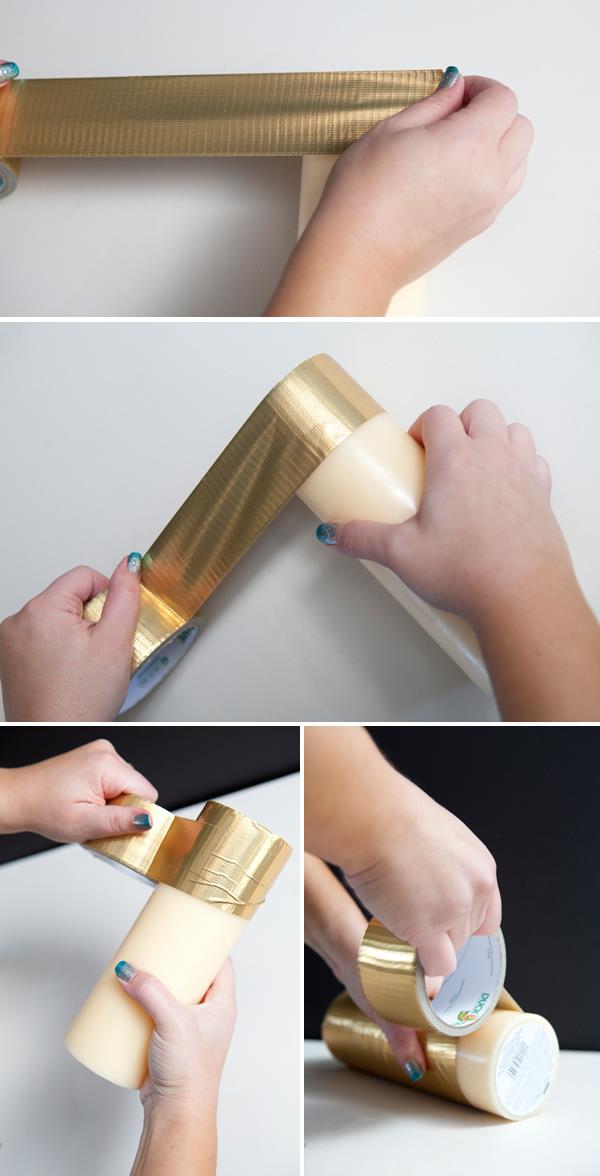 After removing of cover, remove any bits and edges if any and provide a clean and smooth touch to your candle to avoid creases while wrapping the duct tape around it. Now release your favorite texture of duct tape and start wrapping it around your targeted size of candle. Continue wrapping until you reach the bottom point.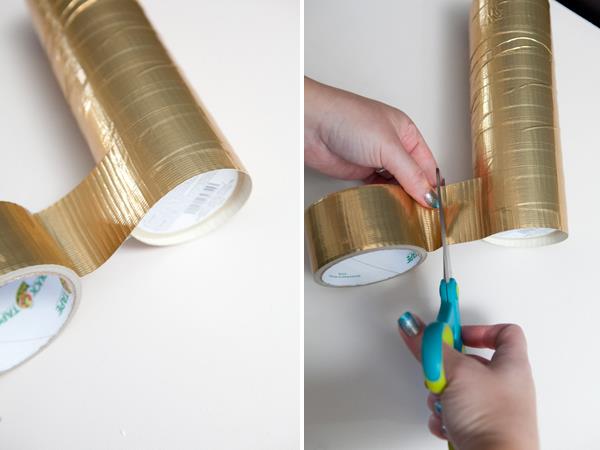 While you are wrapping the candle the air bubbles can trapped to duct tape layers that create really ugly types of creases. Just wrap the candles a little bit tightly to remove the air bubbles. Just take it in mind that precised work will have some bigger impression and compliments.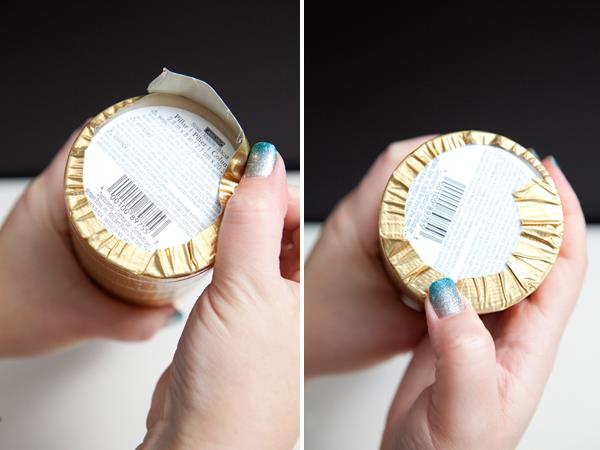 Leave some edges to cover up the bottom nicely and use scissor to cut the excess of edges. We have used a great technique here to cover up the bottom without creases. Give some cuts to the increased edges of the duct tape and then softly wrap them.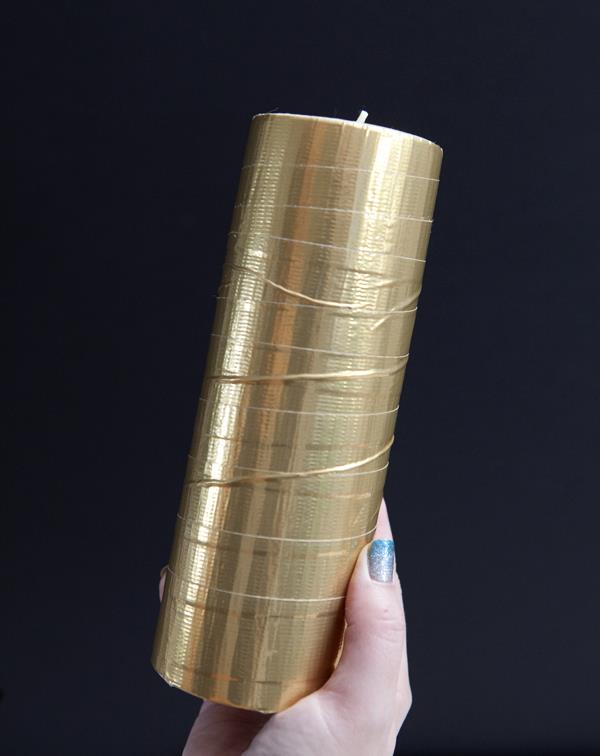 Remove again the excess of edges with scissor and now we have completed our golden textured metallic candle pattern with some simple and quick steps which everyone can do at home.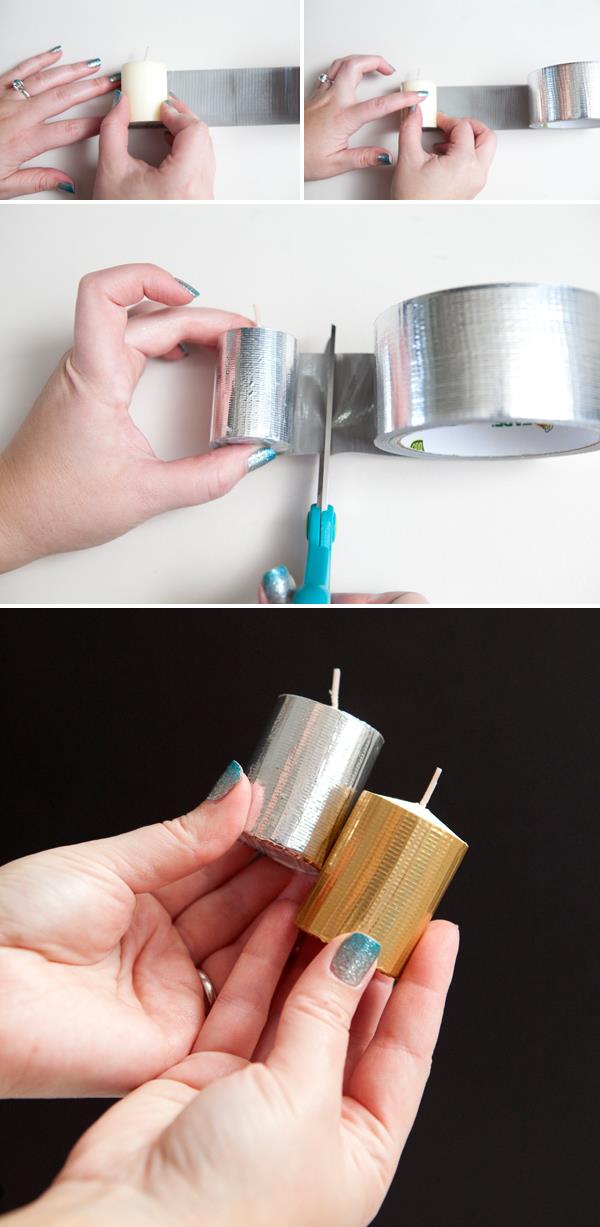 Now repeat the same process with your silver textured type of duct tape with a different size of candle. We have prepared this tiny silver model of sliver metallic candle by clear and well defined wrapping of metallic duct tape texture.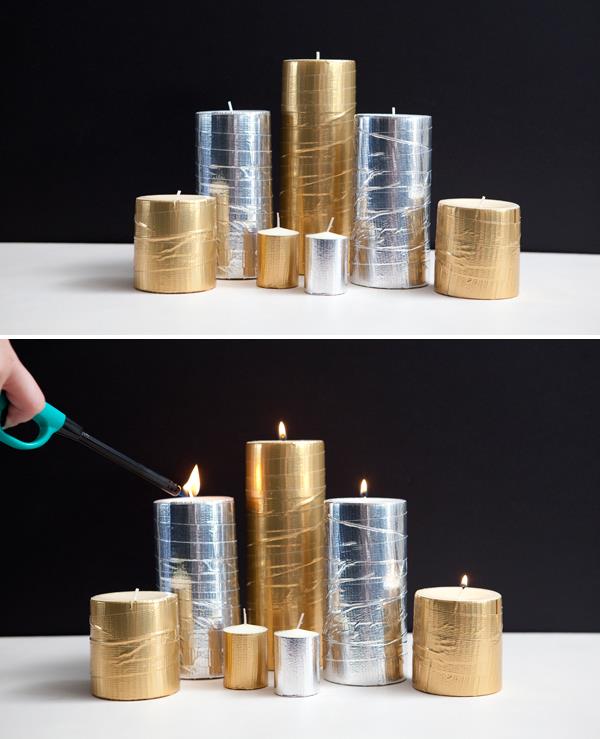 There are tons of metallic and non metallic color options which you can choose for your dedicated candle design. Just ignite them to create a soft warm touch of light all around your home or on dining table which really goes for a romantic and sensational feel which we love all!!